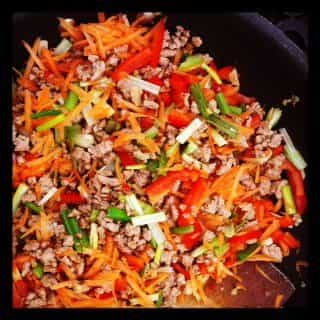 When we lived in California, hubby and I used to regularly go Spice and Rice in La Jolla. This Thai Kitchen was a local favourite. You could sit outside, even in January, and enjoy colourful, flavourful food that stretched your taste buds just that much further. It was good value too. We'd always start with the Thai Lettuce Wraps. Here's my summer version, which is perfect for an al-fresco dinner party. Warning: the kids love these too so make lots.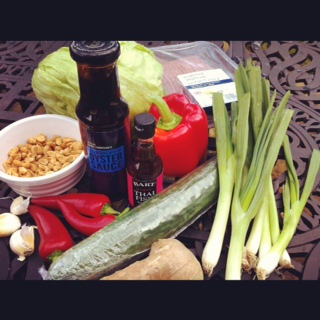 First start with the ingredients. Everything is fresh, fragrant and colourful.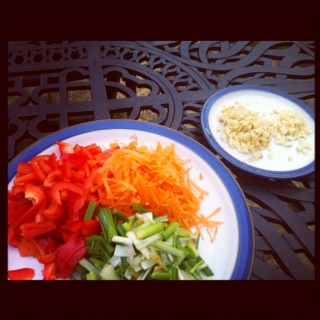 Most of the work in this dish is in the prep — chop or grate the veggies into small, uniform pieces that will cook quickly.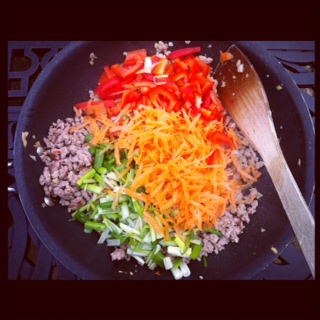 This dish is such a pleasure to make, and look at!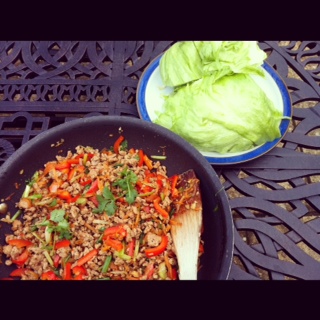 Here's the thai turkey mixture ready to serve with the iceberg lettuce…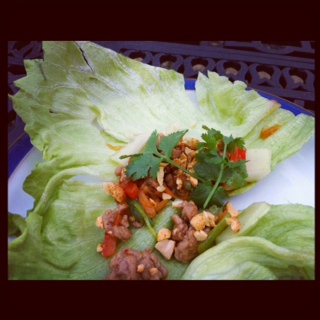 Just put a small heap on the lettuce leaf, fold up like a taco, and eat. Yum!
A Modern Mother's Thai Turkey Lettuce Wraps
500 g turkey mince
2 TBS oil
2 TBS fresh ginger, chopped finely
3 cloves garlic, chopped finely
1/2 tsp mixed chili, minced (.45 p at Morrisons)
1 red bell pepper, sliced thinly, then in 1/4 inch strips
2 medium carrots, grated
2 spring onions, sliced thinly, longwise, then into 1/4 inch strips
3 TBS Oyster Sauce
1 TBS fish sauce
1 head round lettuce (.49 p at Morrisons)
3 TBS fresh corriander, chopped
1/2 cucumber, seeded, slided and chopped into 1/4 inch prices (garnish)
80 g chopped peanuts (garnish)
Method:
Heat a large pan over high until hot, add the oil.

Throw in the garlic, ginger and chili, cook for a couple minutes.

Add in the turkey mince, breaking it up and stiring constantly. Cook until done, about 7 minutes.

Toss in the spring onion, carrot and red pepper. Cook another two minutes, stiring constantly.
Add the oyster sauce and fish sauce, stir another minute, then add in the corriannder.
Put in a pretty bowl.
Eat!
To serve: Put a small heap of the thai turkey mixture mixture onto lettuce leaf. Garnish with chopped peanuts and cucumber. Fold it over and eat with your hands!
"This post is an entry for the #MorrisonsMum (or #MorrisonsDad) Summer Recipe eBook Challenge sponsored by Morrisons, which has recently cut prices on over a thousand every day products. Find out more here price checker tool". I can't really enter the competition, as I'm a BritMums co-founder – but I would still love my recipe to be a part of the ebook!