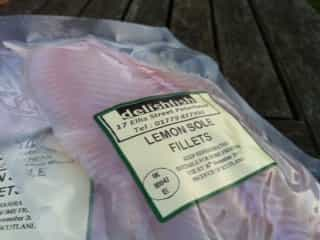 So, I got my latest fish box from Delish Fish in Petershead, Scotland. This time is was perfectly vacuum- packed fresh Lemon Sole fillets. Ah, I thought to myself, this will be easy. I know that if kids don't like fish, it is likely that they WILL like Lemon Sole, because of it's mild flavour. FYI — If you don't already know, by the cute little badge at the side of my blog, I'm participating in the Fish is the Dish campaign to help show that fish IS easy to prepare (if I can do it, so can you).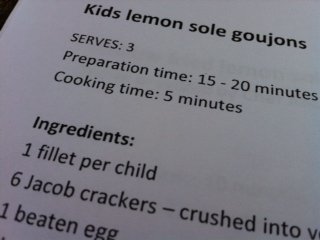 I thought I would try simple goujons for the girls (recipe below), and something a little more adventurous for the adults.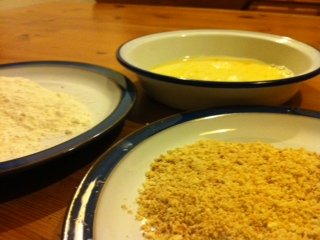 Instead of strips, I cut the fish into chunks. First you dust the the fish in flour, then dip in egg and crushed Jacob's crackers.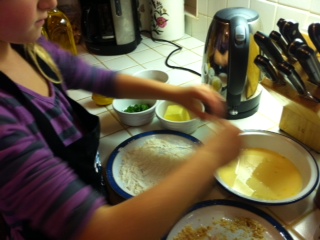 It's more fun if the whole family gets involved. Here's my daughter being sous chef.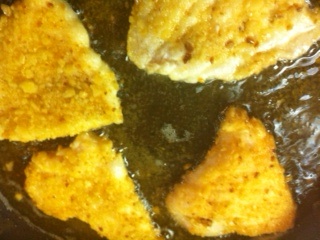 And then sizzling in the pan.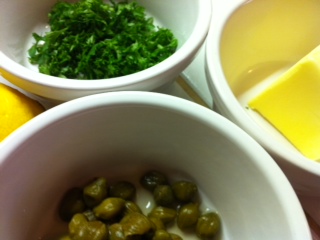 For the adults, I tried this simple recipe for pan-fried lemon sole with capers and parsley.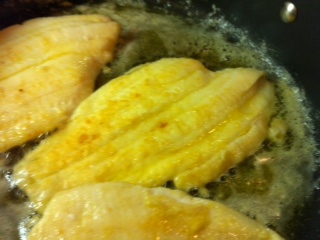 You dust th fillets with flour, then pan fry, about three minutes each side.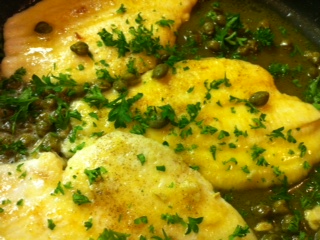 Then you throw in the rest of the ingredients — lemon, butter, capers and parsley. Yum.
The family verdict? The all loved it. My two oldest at 4 pieces of fish each. They are converts. The Scottish side of the family are proud.
Pan-fried sole with lemon, caper and parsley butter sauce
Ingredients
dash olive oil
1 sole fillet, skin removed
salt and freshly ground black pepper
25g butter
2 tsp capers, rinsed and drained
2 tbsp chopped fresh parsley
squeeze lemon juice
flour
5 tomatoes, roasted, for garnish
Prep
Season sole with salt and pepper. Heat the oil and add the sole. Fry for 1-2 minutes, then turn over and fry for another 1-2 mnutes.
Add the butter, capers and parsley and cook for a minute. Add lemon juice.
Kids lemon sole goujons
SERVES: 3
Preparation time: 15 – 20 minutes
Cooking time: 5 minutes
Ingredients:
1 fillet per child
6 Jacob crackers – crushed into very small pieces
1 beaten egg
Plain flour
How do you do it?
1.     Cut each lemon sole fillet into goujons, not too small, you don't want them to fall apart when cooking
2.     Dust the fillets of lemon sole in flour, then egg then crushed crackers. Heat vegetable oil in pan and shallow fry the fillets for a few minutes until coloured
3.     Leave to cool a little on kitchen paper to drain