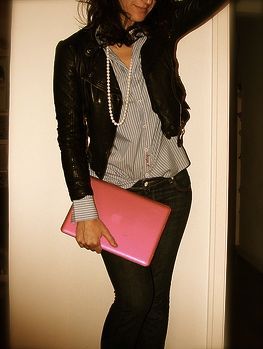 People on the train look at me differently.
I whip out my featherlight silver MacBook Air with tulip pink case and start typing away, using the left side of my brain. All sorts of thoughts pour into the keyboard. I try to stop but my fingers keep going. It's uncontrollable. I'm brilliant.
How does Apply do that?
My massive HP Windows machine just wasn't the same. I was pegged as some sort of 90s IT consultant with a blue shirt and tan trousers. I'm sure the Mac users would look over, shake their disheveled hair, and think you poor girl, if only you knew.
After 20 years of using PCs, I've switched. Mainly because I need to do lots of video for work (no, not THAT kind of video).
I am now officially part of the fashion geek tribe. Watch out!
Photo credit: gabrielle marche