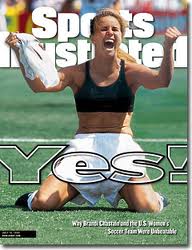 I met Brandi Chastain on the plane on my way to BlogHer11. At the time, I didn't know she was possibly the most well-known women's footballer in the world, and that upon kicking the winning goal for the US Team in the 1999 World Cup, she ripped off her shirt in exaltation. (Hey, she was wearing a sports bra, which covers a lot more than many bikini tops I've seen).
We struck up a great conversation about girls and sports and the differences in perception in the US and UK. When she heard my daughter had stopped playing football because  "it's for boys" she invited us to join her on the football pitch.
What stands out about Brandi is her dedication and enthusiasm and support for girls. Her new venture, Reach Up! is all about helping young girls reach their full potential. Watch the video below, and you'll see what I mean.
After kicking the ball around with Brandi, all three of mine have vowed to take up football again. Thanks Brandi, you are a true inspiration (and I'll think of you on those freezing December morning practices.)