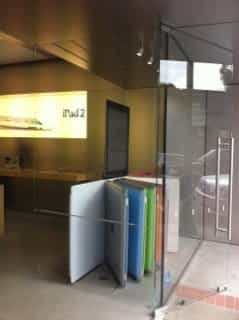 I rushed out this morning to join the predawn queue at the Los Gatos Apple Store in hopes that I may be able to get a snazzy iPad2. I had altready decided I wanted a white one with a lime green cover.
OK, it wasn't really predawn — but close! There were about 15 people waiting outside for the doors to open at 9 am, including a few men in their 40s wearing SF Giants caps and a woman in pink sweats. Not the usual "fanboy" crowd.
The manager came out at 9 and started handing out cards for their limited shipment. He explained they only had a handful (not my 16 GB white wifi). There was a black 32 GB with a network plan, but of course that would do me no good in the UK.
Six weeks after the launch of the new iPad, and the tablets are still scarce. Apple says it is due to a combination of its popularity coupled manufacturing troubles. Really? Or is it a stealth marketing strategy.
Anyway, I didn't get my new iPad. #sob But I did get to keep my $499 (plus tax).
Are you an iPad fan?