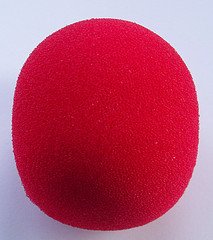 Last Friday morning my youngest, aged 6, didn't want to part with a pound coin in order to wear home clothes to school. In case you've landed on this blog from across the pond, Friday was Red Nose Day/Comic Relief, a fund raising appeal where basically all of the UK comes together to raise money for charity. The evening culminates in a live telethon, and many celebs donate their time in some way. Gordon Brown, JLS, Justin Bieber, Paul McCartny, Davina McCall, and Keira Knightley all made an appearance this year. It's really an amazing event, raising more than £74 million on this campaign.
Back to last Friday morning. My youngest didn't want to give her pound coin. We have been encouraging her to save her money for something she really wants, and not to spend it willy nilly on things like sweets. She didn't think the privilege of wearing jeans and a non-school jumper to school was worth her pound. She had squirreled away nearly ten pounds by doing little jobs around the house, such as picking up bags of seed casings from the Copper Beach in the back garden. I told her it was for charity, to help children in Africa. No, she said. I want to save my money. I told her I would give her a pound coin to take, that she didn't have to use her own money. She still wasn't convinced.
Fast forward to Friday evening. We turned on Comic Relief. On came a waif of an African girl who could not have been more than around seven. She was speaking softly in her local language, and subtitles appeared on the bottom of the television screen. HM asked what the little girl was saying. Her mother just died, I told her. Now she has to take care of her baby brother. HM saw the little girl, not much older than herself, washing her brother in a river. More sub titles appeared. The  little girl said she is so hungry her body hurt. She doesn't want to live, I explained.
HM looked at me and said Mummy I changed my mind. I'd like to give £6 to the children in Africa.
I'm not sure how she came up with that figure, but we sent it away the next morning and we are very proud of our little girl.
Photo credit: Ell Brown