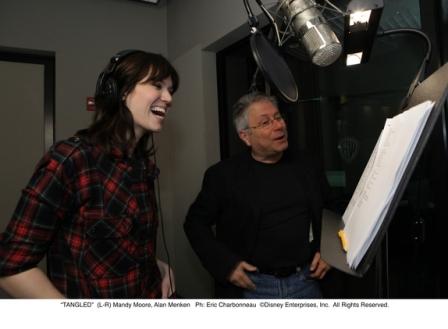 The highlight of my press junket to Disneyland Paris was meeting some of the talent behind Disney's new animated film Tangled. Press junkets are a whole experience in themselves; I could write an entire post about them. I was the lone blogger amongst a large group of European press, and a guy from one of the mainland nationals kept eeking in all his questions before anyone else could breathe! I did my job though and managed to get in a few parent-focused questions.
Alan Menken, Composer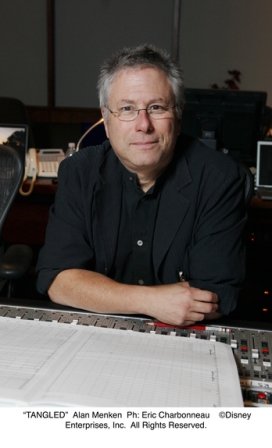 Tangled features five new songs and score by eight-time Oscar winning composer/songwriter Alan Menken. If you have ever had the tune to Beauty and the Beast stuck in your head, he's the man to thank. Menken oozes Hollywood composer; half singing his interview and half name dropping. I expected him to pull a piano out from under the hotel table, start playing Alladin and then take a bow. Very entertaining.
The trouble with Disney's success is that nearly everything has been done before, especially when it comes to music. Menken's challenge was to make Tangled a bit different. The themes of hair, freedom, and growing up made him think of Joni Mitchell, especially Chelsea Morning. Music for popular films is all about giving people a way in; a jumping off point and something they can associate with. Folk rock had not been done before and Menken thought it was perfect for Tangled.
Films aren't without politics, and when asked how much say he had about when a piece is finished (by the pesky mainland journalist) Menken said you have to accept that it's a collaborative art form, otherwise you won't work in Hollywood very long. You need to roll with it. For example, Menken had to work hard to convince John Lasseter (Disney's Chief Creative Officer) to go with the song "When Will My Life Begin". Lassester finally agreed. (I'm so glad you kept with it Alan, that is the best piece and I'm sure it will be a hit.)
My favourite piece is I See the Light, and my daughter's favourite is When Will My Life Begin. Mother Knows Best is very fun, as is I Have a Dream.
Glen Keane, Executive Producer/Animation Supervisor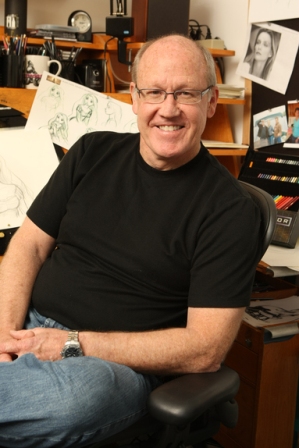 I had heard of Glen Keane, the lead animator on Tangled. His father is Bill Keane, who created the iconic American comic strip The Family Circus. Keane is widely regarded as one of the top talents in animation and is responsible for creating high-profile Disney characters such as Ariel, The Beast, Aladdin, and Pocahontas.
Keane has worked on the Rapunzel character since 1996, when he was based in Paris. They were looking for what to do next and Keane pointed out that Disney had done five of six classic fairy tales that had princess (Snow White, Cinderella, Sleeping Beauty, LIttle Mermaid, Beauty and The Beast) but the Grimm's tale of Rapunzel had not been done. Walt Disney had sketches of Rapunzel dating back to the 1940s. They had to do it.
Although a classical animator, his view of what an artist is has changed and he has come to embrace 3D computer animation and loves to work with people who are thrilled to solve complicated mathmatical problems, like animating hair!
But should Tangled be hand-drawn 2D or computer-generated? Keane knew that hair was difficult to animate and make look natural in 3D. In the end they decided to go computer-generated, and even employed a woman with a PHd who specilised in animating hair on computers. Keane thinks women are especially at good computer-generated animation and had an amazing group of women on his team.
Keane's daughter Claire helped to influence the character Rapunzel. She is an artist, and created the artwork used on the walls of the tower.
Nathan Greno and Byron Howard, Directors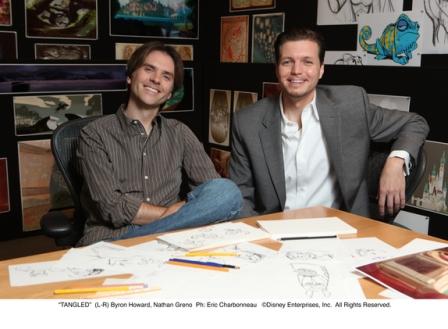 These two were a hoot! Directors Byron Howard (co-director Bolt) and Nathan Greno (head of story Bolt) started working on the Rapunzel project in 2008. They wanted to turn the plot on it's head and make it more than a girl stuck in a tower waiting to be rescued.They quickly decided they couldn't do a whole film inside a tower, and the key to unlocking the story was to get Rapunzel out of the tower and into a journey in the outside world.
The character Flynn Rider was created to help Rapunzel on her journey, and sometimes he steals the show. The two were told they couldn't make a hero that was a thief and hits on women. They did it anyway.
There is a dark part of the film, where Rapunzel realises that Mother Gothel is not her birth mother, and that she was abducted as a baby. Mother Gothel turns on Rapunzel, locking her in chains. I pointed out that this was in some ways more scary and believable to children than some other Disney villains. They seemed quite proud of that.
As for the ending, the message is clear: you can't kidnap babies and get away with it.
Roy Conli, Producer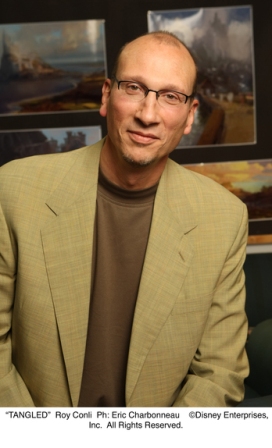 I've always thought if I worked in film, I would most likely be a producer. They are the people who get things done. Conli described his role as running a school playground and making sure there are no bullies, that everyone gets along and that there is a fertile fun place to work.
Apparently Princess and The Frog didn't do as well as planned, and the powers that be thought audiences might welcome a dual protagonist story (rather than focusing just on a princess).
They also had to think about making Tangled a classic, so they questioned popular sayings. For example: would "Don't freak out" be said in 50 years time?
Why did they change the name from Rapunzel to Tangled? Local markets were able to choose the name (for example, the film is called Raiponce in France). In the US and UK, they wanted to highlight the dual protagonist aspect. Tangled can mean "tangled hair" and it could also represent how Rapunzel and Flyn's lives were tangled together. Clever.
As for a story that is basically about a child taken from her parents and raised by another adult. Conli says they didn't  look to outside events (Madeleine, Jaycee Dugard, Elisabeth Fritzl) for influence.
Tangled is a fabulous animated film. You'll have to wait for my review, as I'm still on embargo. But I'll tell you this: I cried twice (!!) and couldn't help thinking about little Madeleine McCann and hope that her story has a happy ending as well.