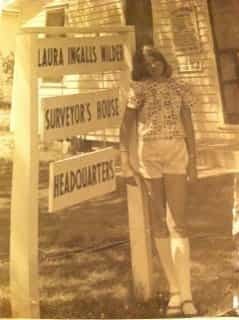 I was a bit of a book worm as a child. I would close my bedroom door, away from the noise of my four siblings, and get lost in a story. My favourite was the Little House on the Prairie series. I imagined myself as Laura, living in a dug out in the wild west, fighting grasshopper swarms and looking after my blind sister. I begged my mother to buy me a bonnet and make to hush puppies for dinner.
In the summer of 1976 my ten-year-old self, my parents and two of my brothers, jumped into our light brown station wagon (estate) and drove 3,000 miles across the United States. It was the Bicentennial, 200 years after the US had signed the Declaration of Independence, and my parents were teachers so we all had all summer to discover America.
I talked my father into taking a detour off Highway 55 to visit the Laura Ingalls Wilder Surveyor's House in DeSmet, South Dakota. At the time, this was a sort of Mecca for me. I remember it all so clearly: We arrived after a six-hour drive, piled out of our station wagon, and an old man quickly came over to us.
"I bet you're here because of Laura."
I was shy, and only nodded, but my mother told me later that my eyes suddenly became very, very bright.
"I knew Laura AND Mary," ths old man said.
Well that was it for me, I fainted and they had to take me to the local hospital to revive me.
Just kidding.
the man turned out to be the curator, and he really did know Laura and Mary. He told us all about Laura and how the Pioneers lived.
My husband is reading the Little House series to our girls. They are absolutely fascinated. It took them a few days to get over the grasshopper swarm scene and they were gutted when Pa was lost in a snow storm at Christmas. They hate Nellie. They also want me to make hush puppies, which of course I am all to happy to do.
Which series/books did you read as a child and have you shared your favourites with your children?