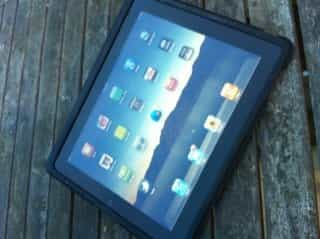 I bought myself an iPad while I was in California. I justified this small investment by telling Scottish hubby they were 20 percent cheaper in the US. He fell for it.
It's basically a big iPhone — without the phone bit. I love it. The girls love it. I know it sounds shallow, but size IS everything. Maybe it's my age, but I like it big. You can actually read your email on an iPad, or watch a movie without squinting.
On my US travels I met with Jamie Pearson (aka @travelsavvymom) whom I first became acquainted way back when Twitter Moms had just a couple hundred members. Jamie runs the highly popular Best Kids Apps for iPhones and iPads. We met at a Parisian cafe in Stanford Mall; Jamie had her son and I brought my 8-year-old daughter. After chatting for a few minutes … the iPads shyly came out, and the kids broke the ice by sharing their favourite apps (how Silicon Valley). As Jamie said, it was a "modern" meeting — two kids, two moms and two iPads!
My daughters' favourite iPad application is Angry Birds HD — where "angry" birds try to get the green pigs. Seriously. Check out Jamie's site … she has far more suggestions.
Are you going to get one? Jen's thinking about it too.