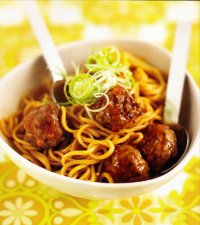 The modern family is a pasta crazy household. I think we could live on pasta and water alone  — OK, and some wine for the adults 😉  Annabel Karmel knows this, and we've been testing some of the recipes from her new cookbook Top 100 Pasta Dishes.
Last time we tried Annabel's escallops with tomatoes and basil sauce with much success. This time I let my pickiest eater choose a recipe (the one that swears she is allergic to vegetables).  She found this pic of sweet and sour meatballs and asked if I could make it "without the green stuff". I immediately took her cue; meatballs are an excellent vehicle to "hide" nutritious things like vegetables. Annabel adds grated apple to hers to give more flavour and keep them moist.
The ingredients were all items that I usually have in the house, or were easy to get hold of. I made them on the day I have a zillion kids here after school. My small soiree walked in the house and there was a unanimous "mmmmmm, what's that smell?" One ravenous guest proclaimed it was "one of the best meatballs she had ever tasted." Her mother, a good friend of mine, asked if it was better than hers and the little girl smirked and nodded yes.  Anyway, everyone loved them. I served them over some Garofalo spaghetti.
Recipe: Sweet and sour meatballs
Suitable fro 18 months
Makes 4 portions
Preparation time: 15 minutes/Cooking times: 15 minutes
Suitable for freezing
Meatballs
1tbsp oil
1 red onion, chopped
1 garlic clove, crushed
225g (8oz) lean minced beef
50g (2oz) apple, grated
30g (1oz) fresh breadcrumbs
1 tbsp parsley, chopped
2 tbsp tomato ketchup
salt and freshly ground black pepper
2 spring onions, very finely sliced, to garnish (optional)
200g (7oz) medium egg noodles
Sauce
2tbsp soy sauce
4 tbsp tomato ketchup
1tbsp rice wine vinegar
2tsp brown sugar
150ml (1/4 pint) water
2 tsp cornflour mixed with a little water
Heat ½ tablespoon of the oil and sauté the onion for 5 minutes until softened but not coloured. Add the garlic and sauté for 1 minute, then set aside to cool.
Mix the mince, apple, breadcrumbs, parsley and ketchup together in a bowl.
Add half of the cold onion and garlic to the meatball mixture. Season with a little salt and pepper. Shape into 24 small meatballs. Heat the remaining ½ tablespoon of oil in a frying pan. Slowly cook the meatballs for about 10 minutes until golden and cooked through.
Cook the noodles in boiling salted water according to the instructions on the packet. Drain.
Add the sauce ingredients to the remaining onion and garlic. Bring to the boil and simmer for 2 minutes until it has reduced slightly. Mix the sauce with the noodles and serve topped with the meatballs and spring onions.
Enjoy!