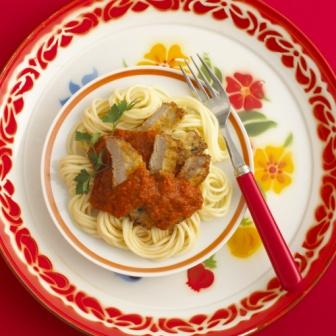 Those that read my blog regularly know that my children aren't the best eaters and that I was slowly turning into England's version of Eyjafallajokull: catering to children and adults and picky eaters was going to make ME explode.
Thankfully that all stopped last year. I now make one evening meal that we all enjoy together. I can't tell you how much this has transformed my life. It's worth it just to walk by the fish finger aisle and not mentally calculate how many boxes I need for the week.
So when Annabel Karmel asked me to try out some of the recipes from her latest cooking bible — Top 100 Pasta Dishes — I agreed. This book clearly was written for me. Pasta is an all time favourite, and the tagline is: 100 easy, everyday recipes for the whole family. This woman is after my heart (or my paycheck).
The shiny new book arrived last week (disclosure: I got it for free) and I gave it to my pickiest eater, six-year-old Alexandra, to choose something she would like us to try. Alexandra can sniff out a vegetable in a snow storm. After a few minutes minutes, she had dog-marked 15 recipes. We went through them together, and she prefaced the last one with "and I would like this without the vegetables". She was pointing to julienned spring onions that looked like they had been curled with a wand. Fair enough.
So, our first one… Pork escalopes with tomato and basil sauce. OK, the recipe is actually for veal, but I don't want to get a bunch of hate email and pork is cheaper, and I think has more flavour.
I went down to our local butcher and picked up five pork escalopes. He even flattened them for me for at no extra charge, so I didn't have to cover with cling film and beat, as per the recipe. You dip the escalopes in eggs, and then coat in a breadcrumb/Parmesan cheese/parsley mixture. The cheese melts with the breadcrumbs and make a wonderful crunchy coating.
The Tomato Sauce bit has the usual olive oil, onion, garlic and canned chopped tomatoes. It also has some items I don't usually include — sundried tomato puree, a bit of sugar and fresh basil. It's a nice touch, a bit tangy, but also sweet at the same time.
The verdict:
Emily (8): Thumbs up.
Alexandra (6): This is good mummy, but I don't like the green stuff (parsley and basil).
HM (5): You always make the best meals, mummy.
Hubby (not telling): This is good honey. Is it chicken?
Here's the recipe:
Veal Escalopes with tomato and basil sauce
Suitable from 18 months
Makes 4 portions
Preparation time: 15 minutes/cooking time: 25 minutes
Not suitable for freezing
Tomato sauce:
3 tbsp olive oil
1 onion, chopped
2 garlic cloves, crushed
2 x 400 g(14oz) cans chopped tomatoes
1tbsp tomato puree
1tbsp sundried tomato puree
tsp sugar
1/2 tsp dried thyme or tsp fresh thyme
3tbsp fresh basil, chopped
250 g (9oz) spaghetti
salt and freshly ground black pepper
4 thin veal escalopes (about 80-100 g/3-31/2 oz each)
2 eggs, beaten
150g (51/2 oz) fresh white breadcrumbs
30g (1oz) Parmeasan cheese, finely grated
2 tbsp parsley, chopped
*Heat 1 tablespoon of olive oil in a saucepan.  Add the onion and garlic and saute for 2-3 minutes.  Add the canned tomatoes, purees, sugar and thyme.  Bring to the boil, cover with a lid and simmer for 20 minutes.  Whiz the sauce to a puree using a hand blender.
*Cook the pasta according the the instructions on the packet.  Drain and add to the sauce with the basil.
*If necessary, cover the veal with cling film and bash it out to a thickness of about 4mm using a mallet.  Season the veal and drip into the beaten egg.  Mix together the breadcrumbs, Parmesean and parsley. Coat the veal in the breadcrumbs.  Heat the remaining oil in a large non-stick frying pan. Fry the veal for 1 and 1/2 – 2 minutes on both sides until golden and just cooked through.  Remove from the heat and rest for 2 minutes.
*Spoon some spaghetti onto a plate and serve with the veal on top.