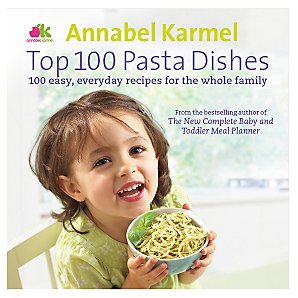 Remember when I said I should have been a food blogger? And remember my ongoing quest to find meals the whole family will enjoy?
Well, get this, Annabel Karmel has just challenged me to try some of her recipes each week … Julie and Julia style. They are from her upcoming "Top 100 Pasta Dishes – 100 easy everyday recipes for the whole family." BTW — did you know that Annabel is the UK's 4th best selling cookery author?
So, Annabel, YES! I'll do it! I'm always on the lookout for new recipes and I secretly want to be a food blogger. I have to warn you that my girls are big Masterchef fans … and now every meal I make is ranked 1 out of 10, with intimate details of what worked and what didn't.
My first post will be out on 10th May.
Disclosure: I get a free book.