Disclosure: I received free tickets to see this film.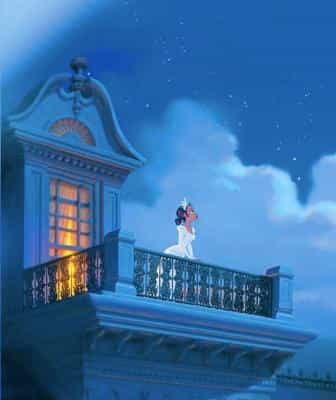 Sorry, I had to borrow that headline from a review in The Times. It was too good to ignore.
Sunday we dragged ourselves into London to see an advance screening of The Princess and the Frog, Disney's newest 2D animation film that caused a mountain of controversy and speculation during its three years in the making.
Why? It's Disney's first black princess fairytale. African Americans have been waiting for this for 86 years. Oprah was consulted. The internet ranted. Disney took all into consideration.
The result? A sweet animated feature length film in retro hand drawn 2D animation about a young girl (Tiana) in New Orleans working hard to fulfil her lifelong dream of opening a restaurant. Thinking it will help her cause, she kisses a frog – who is really Prince Naveen that the witch doctor has turned into an amphibian. Upon kissing her Prince, Tiana turns into a frog, and they spend the rest of the film trying to turn back into humans. The two fall in love (surprise, surprise) and well you have to watch the film to find out the rest. There are some other delightful characters, including a jazz-loving alligator called Louis and Ray the lovesick firefly.
The stars seems be aligning in favour of The Princess and the Frog being a big hit (current fascination with the American first family is just one reason). But I don't remember any other Disney princess film getting into the "dark" side as much as this one. Some younger children (under 4s) might find the voodoo New Orleans underworld of witch doctors and all knowing seers a bit scary. For all the lengths Disney went to make this as neutral as possible, I can't help but think the Christian right which is so prevalent in the US will find some fault. Or maybe they'll think hard work and love will prevail over evil, which is the main message of the film.
So, anyway, we saw the film in London on the weekend. We capped the day off touring the sites and the Christmas lights. My nearly 8-year-old was at a loose end when we got home (read: a pain in the bum) and I asked her to write a couple pages about what she thought about the film, which the chip off the ole block that she is, she happily did. Here's a few bits:
It was very good. The main bit was when Tinea (she meant Tiana) kissed the frog which was really a prince and turned into a frog because the prince was under a spell He kissed Tiana because to break the spell he had to kiss a princess. Tinea was a waitress but she was going to a dressing up party…
She went on and on like this. Does my daughter mention that Tiana is black? No! Not once. This does not even register in her 8-year-old mind. Or in her 4-year-old and 5-year-old sister's. It was just a cute film about a prince and a princess and a frog.
The Princess and The Frog will be released in the UK on 29 January.
Are you planning to see it?
Update: The Princess and the Frog is now available on Blu-ray, special features include:
Deleted Scenes
The Making Of A Princess
Conjuring The Villain
The Return To Hand – Drawn Animation
The Disney Legacy
Disney's Newest Princess
Princess Portraits Game
Audio Commentary By Filmmaker