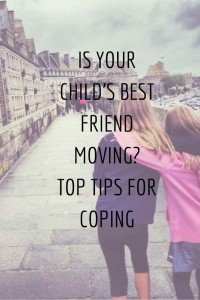 My eight-year-old daughters best friend is moving to another country. Though the move is still a few months away, she is devastated. I can tell she is trying to make sense of the impending loss and is working things out in her mind.
"When Emilie goes, who will be with me at play time?"
"What about Josie?"
"She doesn't like to do the things I do. She always wants to play tag and talk about Go-Gos. Emilie like to make up plays, just like me."
My daughter has a point. At any age, it's hard when special friends move on. Though you can keep in touch, it changes the day-to-day routine. Something is missing. In a best friend's case — a big chunk.
I've had a read of the Internet, and here's a summary of the best suggestions:
There is conflicting advice on what to do about younger children (under age 7). Some say you should delay telling them until very close to the move. They will just worry incessantly about it, and not really understand. Others say you should tell them well in advance, so they can prepare.
For older children (8 and above) it's best to tell them as soon as you can. Let them have time to get used to the idea.
Have your child be involved in planning a going away party for their friend.
Show your child on a map where their friend is moving and look it up on the Internet so they can learn more about it. It can be exciting to learn about new places.
Have your child make a special gift for their friend. It could be a photo album, drawings of them together, a story. Frame it and give it to them before they leave. When we moved back to the UK a few years ago, a friend did this for us. We still bring it out, look at it and remember them!
Make a photo album for your child to keep. Or get a Flip and video the two together doing some of their favourite activities.
Be as positive as you can. Point out that they can keep in touch via email, Skype and even be pen pals!
Make sure you discuss with the parents ways the two can keep in touch.
Read them one of the books about friends moving. Often hearing their feelings in a story format can help them understand. At least feel a little better.
Put your child in situations where they can make new friends. Make an effort to have a playdates with other classmates. Sign them up for a new activity.
Talk about how your child feels about the move. It's OK to be sad. If they can't articulate what they feel — help them. "You're going to miss Emilie, aren't you?" "It's very sad she is leaving, isn't it?" "There will never be another Emilie, but you will make other friends."
Give them space to deal with it. Dealing with loss is a life lesson.
Of course I am sad too! I'm good friends with Emilie's mother and will miss her. I wonder if she would think it was weird if I made her a scrapbook?