Disclosure: we got free tickets to see this event.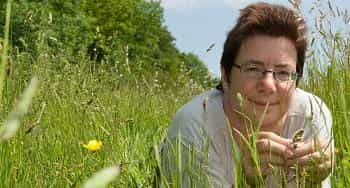 Wow. I can tell the Royal Institution's Christmas Lectures made a lasting impression on my nearly eight-year-old daughter. They made a lasting impression on me. And my husband. Syringes armed with harmful histamines, seeds seeped with deadly nerve poisons: Who knew plants were so vicious?
The Christmas Lectures are special. Given nearly continuously since 1825, their aim is to share science's latest discoveries with young people. They are now televised each year and a Christmas tradition with many families. We were lucky enough to be invited this year to hear Professor Sue Hartley of Sussex University talk about "The 300 Million Years War" between plants and animals. My daughter's exact words after seeing the engaging Professor Hartley were "It was WAY better than I thought it was going to be" and when explaining it to her four-year-old sister: "You don't know how FUN it was." I thought it was fantastic having a woman role model in a male dominated discipline (Professor Hartley is only the fourth female lecturer in 184 years).
They obviously put a lot of thought into making the lectures interesting for children. There were several props and "special guests" to help make the event come alive. We learnt that plants have all kinds of nasty surprises to keep away ugly herbivores (well, I think a big-headed grasshopper isn't exactly attractive). A human-sized caterpillar slipped down a giant holly leaf and got stuck in a potato plant with wiggly green (human) arms. I think poor chili eating Adam made one of the biggest impressions; he consumed a whole Indonesian ghost chili– a chili so hot that it could still burn your mouth when a drop is diluted in a swimming pool of water. The poor staff member looked as though he was going to be sick.  Professor Hartley demystified the secret to the nasty sting of nettles (they have tiny syringes with chemicals just waiting to inject you). And she showed us — under cover — some of the most deadly plants, such as bird's-foot trefoils (which contains cyanide), the Caster Oil Plant (strychnine: a nerve poison) and mustard oil — which when demonstrated dissolved polystyrene in seconds.
Children sit on the bottom of the theatre, and adults in the cheap seats. It is wired up for television recording, with lights and cameras everywhere, which adds to the excitement. My only complaint is it's a bit of a free-for-all getting admitted to your seats (imagine trying to get the ocean through a hosepipe). Surely there is a better way to do this guys.
Ticket tip: These hugely popular lectures sell out each year and next year Royal Institution members get advance notice and opportunity to purchase tickets. If tickets are sold out you can still be part of the fun by watching the performance on a live feed in an adjacent theatre. And of course everyone can join the tradition, The Royal Institution Christmas Lectures air on More4 on December 21 – 25 at 7 pm and will be discussed on Twitter.
Here are some images from past lectures…