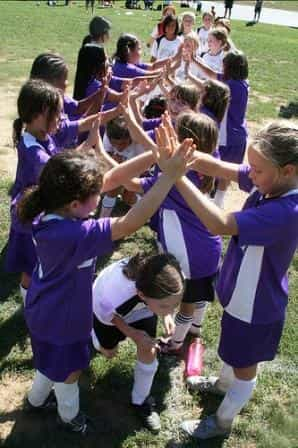 My oldest (7) was very excited when we moved her schedule around this term so she could play football. She is keen on the sport and has played on and off since she was three. Her early years were spent in California, where "soccer" is as popular with girls as tap or ballet.
Imagine her disappointment when she turned up in her football boots and shin guards last Monday afternoon to discover she was the only girl among a small swarm of boys.
She didn't let that stop her. The coaches (from the local football club) were great and supported her involvement, awarding her player of the day. I was very proud watching her muck in there with all the boys. After, she ate two helping of shepherd's pie and fell asleep on the sofa…
But I have to wonder… where are all the girls?
Loughborough University did some research a while back on why girls dislike PE.
It boiled down to four things:
Horrible PE kit;
Cold weather;
The super hearty, if not bullying, attitude of the archetypal games teacher (sorry had to quote that directly);
The competitive nature of sports.
I can agree with the first two. We have not (so far) come across the third, but I am worried about the last one. Surely a little friendly competition can help prepare our little girls to compete in the next decade's workforce, which I'm sure will still be male centric, right? Shouldn't we encourage this?
I asked some of the mothers why their daughters didn't play football and many said they wanted them to play, but their daughters weren't interested. They dismissed it as being "for the boys".
What do you think about the lack of pink on the football pitch? Does your daughter play football or any other competitve sports? Do you want her too?
Photo credit: wworks