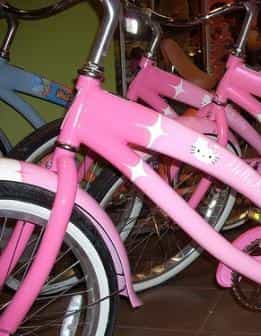 I didn't know when we bought our three daughters bicycles last weekend that it would test our marriage.
Brand spanking news one from Halfords. Pink. The two youngest got stabilisers, but at seven, Emily was too big. She would have learn to ride a bike the old fashioned way.
Come to think of it, I can't remember how I learnt to ride a bike. And it soon became apparent that neither could hubby. It's easy, right?
After a half hour of going round our garden at a snails pace and getting a back ache from holding the steering wheel, Emily started to get frustrated.
Can you teach me to ride a bike please?
I am honey.
You need to balance.
How?
Now I was getting impatient.
So I printed some instructions from the Internet and handed them to hubby and told him to teach her.
He put them down and took her round the garden, at a snails pace, and then told me his back hurt.
Did you read the instructions I printed?
No.
So I read them. Turns out we were doing it all wrong. We should lower the seat so Emily could easily use her feet to balance and brake, take her to a gentle incline, and holding her by the shoulders let her get momentum and then let go.
We did this. It worked. Hubby said there were some good ideas in the instructions.
COMPETITION – the nice people at the Tales of the Road campaign (they have some great cycle safety tips) and Halfords and have given me one set of cycle accessories to giveaway (helmet, gloves, etc.) They have Power Rangers on them. Please leave a comment below to enter and I'll picky one lucky person out of a hat and send them all the kit (UK only because of postage costs).
*You could also head on over to Chez Aspie, In Search of Adam and/or Jo Beaufoix for three more chances to win cycle gear.
Photo credit: richard masoner