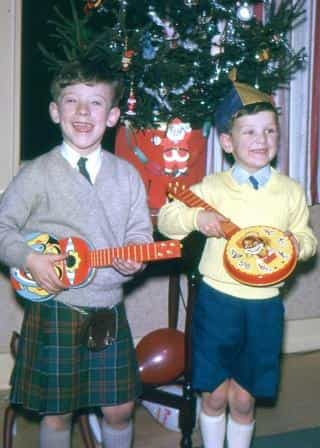 I opened my email this week and got a wee surprise. Hubby's cousin sent over some incriminating photos from Christmas past.
In fact, he sent over a whole load of photos taken by my husband's Aunt at every holiday. My husband is no spring chicken, so this is a lot of photos.
We had a good laugh going through them. Hubby is the one on the right, with the wide grin and the banjo.
We all asked Scottish Grandma (who is here for four weeks) why daddy was wearing shorts. In Scotland. In December. Even hubby wanted to know.
She replied that was the attire for "boys of a certain age".
I asked him if he remembers being cold. He said he didn't, but maybe it explains why he has an aversion to wearing shorts.
Happy New Year everyone! Hope you have a warm one. It's -4C outside. Brrrrrrrrrr.