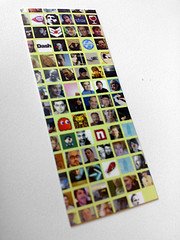 First, the Best of the Mommy Bloggers is up on Under the Big Blue Sky.
Check it out, it's an eclectic mix of stories from the trenches of motherhood.
Second, I read something the other day that is really bugging me.
The debate is raging in blogosphere. Some prominent bloggers have decided to "retire" because, to sum it up, now that blogging has reached mainstream in the US, it's not cool anymore.
Microblogging, such as Twitter, is now the "in" thing.

I was born and raised in Silicon Valley. I was syncing addresses on my IPAQ when most people still had to look up their contacts on a Rolodex. I went to journalism school with Mr. Blogger himself and put up my first web site in 1993 (the IT guy kept coming over to my desk showing me Netscape and saying "isn't this cool?")
How did I find myself behind the curve?
I'm not. Because blogging is not dead. It's alive and kicking.
I don't think the people over at Wired travel much. Most people in the UK barely know what a blog is. When I told my group of coffee morning mums that I was a mommy blogger, I got blanks stares and the 4-year-old daughter of one of my friends brought me a tissue for my "boogers". 
And I am in the heart of the "techy" Thames Valley, think of what it must be like UP NORTH.
Blogging is dead? It's just started. Get over yourself.
That said, I'd hate to miss out on anything…
Photo credit: Josh Russell